Cotton On is a larger than life, vibrant retail giant that is rocking the local and international retail scene. Famous for fast-paced, cutting edge street wear for girls and guys at easy on the pocket prices, our hot buyers deck out the stores every week with the coolest clothing and accessories from around the world - new deliveries in-store every week.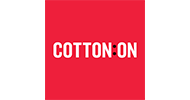 Centre Trading Hours
MONDAY - WEDNESDAY
9:00AM - 5:30PM
THURSDAY
9:00AM - 9:00PM
FRIDAY
9:00AM - 5:30PM
SATURDAY
9:00AM - 5:00PM
SUNDAY
10:00AM - 4:00PM
Please note some store may trade outside of the above hours, please contact individual stores for specific times.