Crossroads are always on hand for the latest fashion and wardrobe essentials at very hot prices! Their team of friendly staff are always on hand to help. Visit their store and they will show you their new arrivals, latest styles and tips on how to wear them!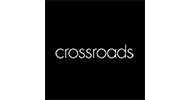 Centre Trading Hours
MONDAY - WEDNESDAY
9:00AM - 5:30PM
THURSDAY
9:00AM - 9:00PM
FRIDAY
9:00AM - 5:30PM
SATURDAY
9:00AM - 5:00PM
SUNDAY
10:00AM - 4:00PM
Please note some store may trade outside of the above hours, please contact individual stores for specific times.