Pets
Family Pets & Aquariums
Family Pets & Aquariums - Your Pet and Aquarium specialists!

Add a furry, slithery or scaly member to your family from Family Pets and Aquariums. Plus choose from a huge range of accessories for dogs, cats birds, fish, reptiles, insects, rabbits, ... the list goes on!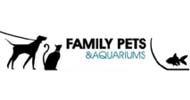 Centre Trading Hours
MONDAY - WEDNESDAY
9:00AM - 5:30PM
THURSDAY
9:00AM - 9:00PM
FRIDAY
9:00AM - 5:30PM
SATURDAY
9:00AM - 5:00PM
SUNDAY
10:00AM - 4:00PM
Please note some store may trade outside of the above hours, please contact individual stores for specific times.