Food & Drink
George's The Pizza Shop
George's has been serving up delicious food to pizza lovers for over 33 years in the Hills of Sydney. It is with great excitement that George and his wife Kelly, side by side with their children, welcome you to George's The Pizza Shop.
Growing up, George and Kelly's children proudly watched their parents work hard in the pizza shop and learnt everything there is to know about the pizza making business. They would watch and admire the love and generosity that their parents put into every pizza, every order and every person that walked through the door.
The original shop was a home away from home and a huge part of their life. It was known as the pizza shop to George, Kelly and their family and that is why the new store has been lovingly named 'The Pizza Shop'.
The same food, same family, same love!
From our family to yours, welcome to George's.
George's The Pizza Shop Menu's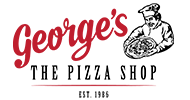 Georges Trading Hours
Monday - Sunday
5:00pm - 9:30pm