Hair & Beauty
Haus of Hair
Discover a team of dedicated stylists at Haus of Hair in Stanhope Village. They understand their customer's needs and will create a look that is manageable and fashionable just for you.
Drop by for a coffee and a chat to see how Haus of Hair can help you and your family with all your hair styling and colouring needs.
Visit the Haus of Hair Facebook page.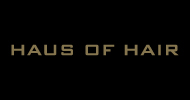 Haus of Hair Trading Hours
Monday
10:00AM - 4:00PM
Tuesday
9:00AM - 4:30PM
Wednesday
9:00AM - 4:30PM
Thursday
9:00AM - 8:00PM
Friday
9:30AM - 5:00PM
Saturday
9:00AM - 5:00PM
Sunday
10:00AM - 1:00PM
Haus of Hair - Stores | Stanhope Village