Food & Drink
Muffin Break
Muffin Break takes wholesome recipes, quality ingredients and an abundance of passion and turns them into muffins of many delicious flavours. Traditional favourites like blueberry and classic chocolate-chip to the distinctive taste of gourmet savoury selections like spinach, feta and sun-dried tomato or satay vegetable, baked-fresh in-store every day.

Muffin Break is also recognised for its highly-acclaimed proprietary coffee blend that is made from 100% award-winning Arabica beans sourced from the world's finest coffee-growing regions.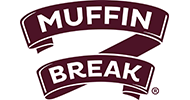 Centre Trading Hours
MONDAY - WEDNESDAY
9:00AM - 5:30PM
THURSDAY
9:00AM - 9:00PM
FRIDAY
9:00AM - 5:30PM
SATURDAY
9:00AM - 5:00PM
SUNDAY
10:00AM - 4:00PM
Please note some store may trade outside of the above hours, please contact individual stores for specific times.