Throughout the years, Subway has earned a well-respected reputation for offering customers a better alternative to traditional greasy and fatty fast food. Subway have over 42,000 restaurants worldwide. Subway offers fresh, nutritious, made to order sandwiches that are prepared just the way you like it, right before your eyes – a fast food alternative that is low in fat. Try it for yourself!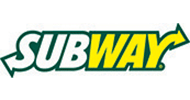 Centre Trading Hours
MONDAY - WEDNESDAY
9:00AM - 5:30PM
THURSDAY
9:00AM - 9:00PM
FRIDAY
9:00AM - 5:30PM
SATURDAY
9:00AM - 5:00PM
SUNDAY
10:00AM - 4:00PM
Please note some store may trade outside of the above hours, please contact individual stores for specific times.