Paint that cleans the air
Have you ever seen a 'Smog-Eating' Mural?
We're committed to striving for a brighter future, so to celebrate World Environment Day, we've partnered with Graphenstone Paint and artist Bruno Mota to paint an incredible 'smog-eating' mural. The mural will feature paint that cleans the air by absorbing CO2 (just like planting a tree!).
You'll find our murals on the outside plant boxes near Stanhope Fruit Barn and the external walls of the Centre Management Office. Both of our murals used 35L of paint which absorbs as much CO2 as an adult 200kg tree will absorb in 12 months.
About the artist
Bruno Mota's colour filled, energetic landscapes bring joy to many. Lighting up any space his landscape works are hung.Bruno Mota is a Brazilian artist based in Sydney. He was born in 1983 in Santos, a beautiful coastal city in Brazil. Carrying the inspiration of his birth place within him, Bruno now paints beautiful Australian landscapes scenes well known to many. Whether it be Brighton, Byron Bay or Bali as his subject matter, Bruno captures the essence of where he has himself stood, taking in the beauty around him. He is skilfully able to capture a location's uniqueness. All the positive feelings flow out from his art work and into the viewer who instantly recalls joy-filled summer holidays (or dreamily wishes of future ones).With inspiring artist figures such as Jackson Pollock, Bruno uses acrylics to express his warm, positive energetic ideas onto canvas through bright block colours. He has an immense sense of joy discovering new places, meeting new people and sharing his positivity with the world through art.
How does the paint work?
Calcium, water and carbon dioxide (CO2) react or "carbonate." This reaction turns the calcium hydroxide into calcium carbonate, otherwise known as lime stone, ultimately locking in atmospheric carbon dioxide. Once this reaction has taken place, the captured CO2 cannot be released back into the environment. Find out more about the paint here.
Colour Palette
We've even designed our own range of environmental themed colours, which will be used to paint the mural;
Ocean (Dark Blue) - 'Bright Futures: Blue Reef'
Sun (Yellow) - 'Bright Futures: Solar Yellow'
Nature (Bright Pink) - 'Bright Futures: Bright Pink Gallah'
Air (Light Blue) - 'Bright Futures: Baby Blue Zephyr'
Trees (Dark Green) - 'Bright Futures: Gum Tree Green'
Flowers (Baby Pink) - 'Bright Futures: Baby Pink Petal'
To find out more about our sustainability initiatives/strategy click here.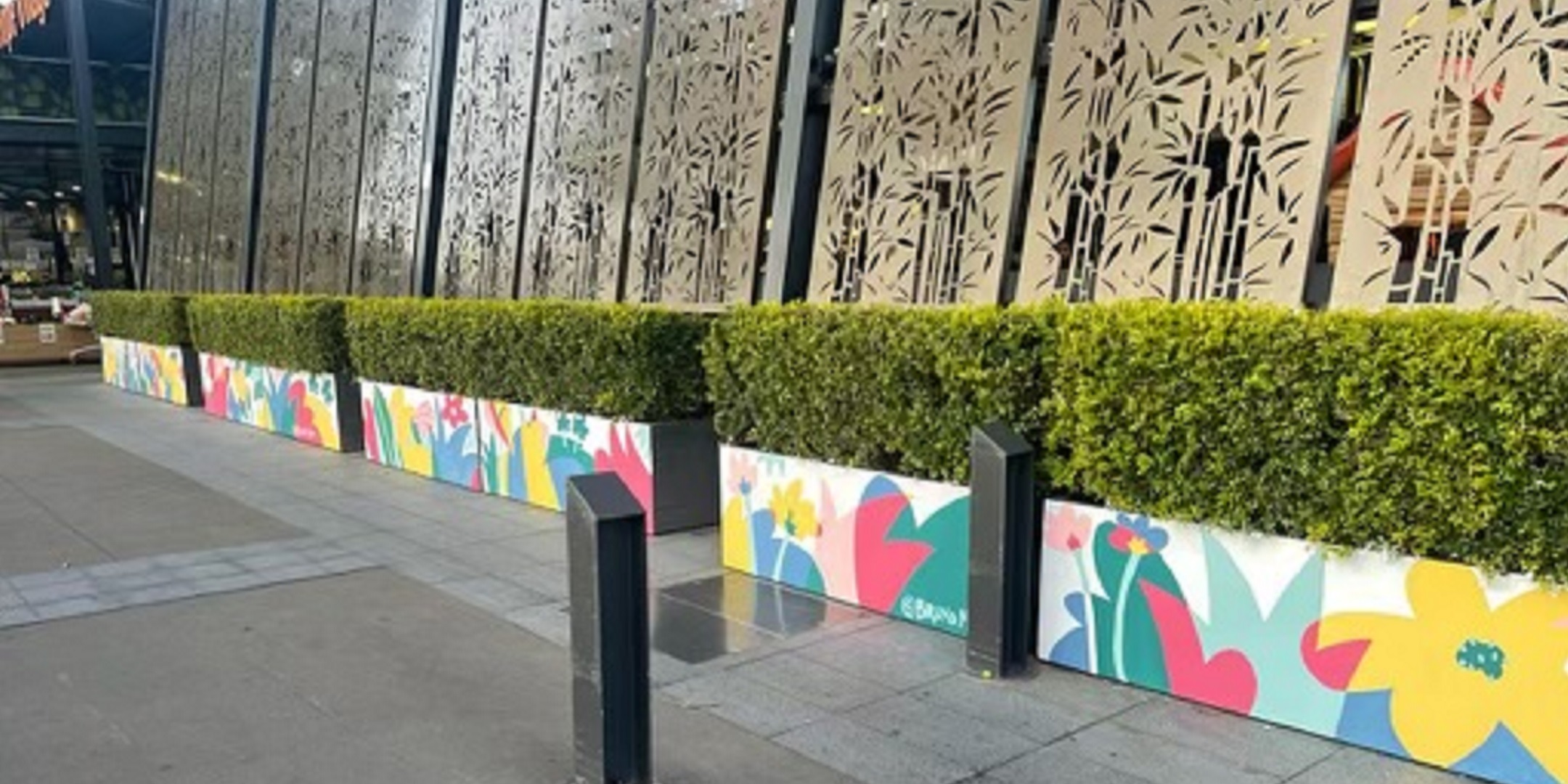 INSPIRATION
Check this out